Il y a quelques mois à la demande d'un client, j'ai réalisé un script pour connaitre le taux d'utilisation des ses salles de réunion (en France uniquement – les salles françaises appartenant toutes à une même « RoomList » Exchange). Le client avait besoin de rationaliser son espace pour accueillir de nouveaux collaborateurs. Le but étant de transformer les salles les moins utilisées en espace de travail. L'analyse a été faite sur un an et sur la plage horaire 08:00 – 18:00 (Tout est paramétrable).
La demande était au départ sur du Exchange « onPrem ». Par plaisir j'ai décidé de faire évoluer ce script pour Office 365  (Mode d'authentification en ADAL). Je vous partage donc le script.
Le résultat(*) est un fichier CSV par salle (une ligne = 1 jour):

et un fichier CSV(*) de consolidation (sur un an dans le cas présent) pour toutes les salles :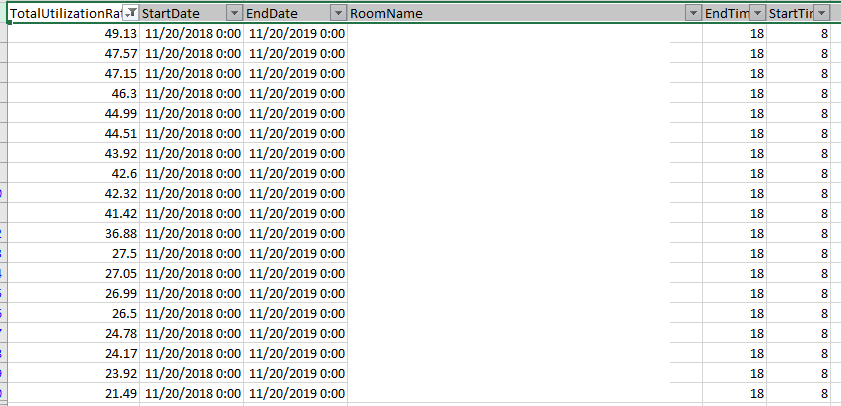 (*) Résultat filtré et anonymisé pour des raisons de lecture et confidentialité.
Ce dernier fichier permet donc de voir rapidement les salles les moins utilisées.
Quelques liens utiles :

A few months ago, I made a script for a customer to know the utilization rate of its meeting rooms (in France only – all the rooms belonged to the same Exchange RoomList). This customer needed to rationalize his space to accommodate new employees. The goal was to transform the less used rooms into workspaces. The analysis was done over one year and on the time slot 08:00AM – 06:00 PM (Everything is configurable).
The request was initially for « onPrem » Exchange. For pleasure I decided to upgrade this script for Office 365  (authentication mode in Office 365 ). So I share the script.
The result (*) is a CSV file per room (one line = 1 day):

and a consolidation CSV (*) file (over one year in this case) for all rooms: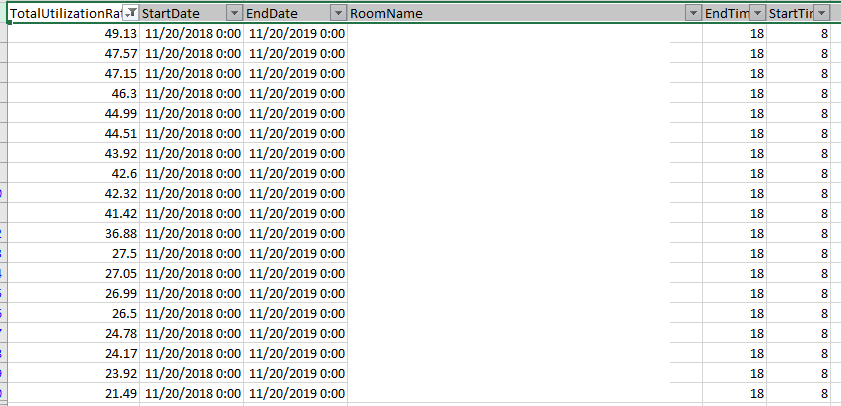 (*) Filtered and anonymized result for reading and confidentiality purposes.
This last file makes it possible to quickly see the least used rooms.
Laurent.